Watch it again!
The Cameron Hollyer Memorial Lecture 2021
Jeffrey Hatcher
Playwright and Screenwriter
The Adventure of the Occasional Playwright:
Conan Doyle Onstage

Jeffrey Hatcher is an American playwright and screenwriter. His screenplays include Casanova, The Duchess, Mr. Holmes and The Good Liar. His many award-winning plays have been performed on Broadway, off-Broadway, across the US and in other countries. His stage adaptation of Robert Louis Stevenson's novella The Strange Case of Dr. Jekyll and Mr. Hyde was nominated by the Mystery Writers of America for the Edgar Award. He was invested in the Baker Street Irregulars in 2018 as "The Five Orange Pips".
---
Watch it again!
The Cameron Hollyer Memorial Lecture 2020
Sherlockian Collecting
A Tour of Clever, Creative, and Weird Pursuits
A survey of different collections from across the world of Sherlock Holmes, and an exploration of what we can learn from the many creative approaches in the Sherlockian community today.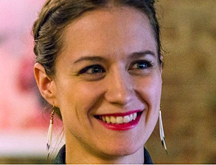 Rebecca Romney
Rare book dealer and co-founder of the Washington D.C.-based firm Type Punch Matrix, as well as the Honey & Wax Prize for book collecting. Regularly appears as the rare book specialist for the History Channel's PAWN STARS.
Her book on books, Printer's Error, is available from HarperCollins.