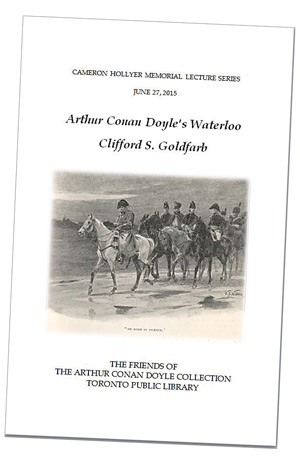 The Cameron Hollyer Memorial Lectures
The Friends are delighted to offer individual copies of many of our annual Cameron Hollyer Memorial Lectures in booklet form. The lectures have been printed each year since 2008 except 2016.
Copies are CDN$15.00 to addresses in Canada and US$15.00 to anywhere else, including postage.
As quantities are limited, please inquire first to ensure we have the items you want. You can write us at:
Friends of the Arthur Conan Doyle Collection
22 Markdale Avenue
Toronto
Ontario M6C 1T1
Canada
or by email to
The Hound of the Baskervilles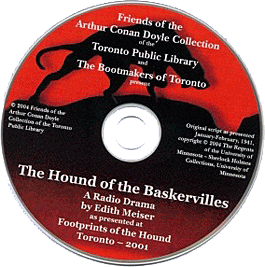 We are pleased to offer an audio CD featuring a dramatic reading of the 1940's radio play THE HOUND OF THE BASKERVILLES
The script is a condensed version of the 6-part script by Edith Meiser, originally broadcast in the U.S. in 1941 featuring Basil Rathbone and Nigel Bruce and, as far as we know, never heard again since. The script was kindly provided by the University of Minnesota and the Friends of the Sherlock Holmes Collections.
Proceeds of the sale of the CD go to the Arthur Conan Doyle Collection of the Toronto Public Library, and to the University of Minnesota Sherlock Holmes Collections.
Please send orders and queries to:
Friends of the ACD Collection
c/o Doug Wrigglesworth
16 Sunset Street
Holland Landing, Ontario
Canada L9N 1H4
or by e-mail at acd.friends(AT)sympatico.ca
Payment may be made by VISA, MC, Amex, Canadian or US Cheques - or bank drafts payable to The Friends of the ACD Collection.
Prices: CDN$20 + CDN$5 shipping within Canada
US$15 + US$5 shipping within the US
GBP 8 + GBP 4 for shipping to the UK
Other destinations, please contact us for postal rates.